Posted January 17, 2017 in Community, Dr. Aldona Spiegel, Events, News, Reconstruction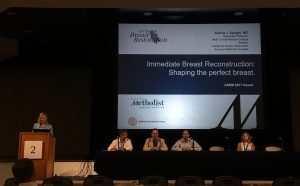 Dr. Aldona J. Spiegel presents, Immediate Breast Reconstruction: Shaping the Perfect Breast as an invited lecturer at the 2017 American Society for Reconstructive Microsurgery (ASRM) meeting in Waikoloa, Hawaii. Dr. Spiegel is an honored member of the ASRM and participates as a nominating committee member and mentor for the ASRM Women's Microsurgery group.
The ASRM was established to promote, encourage, foster, and advance the art and science of microsurgery and complex reconstruction and the ASRM Women's Microsurgery Group was established to support women microsurgical and reconstructive surgeons in order to help them achieve their professional and personal aspirations. Microsurgery.org, 2017.