Posted October 19, 2016 in Community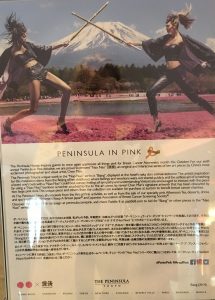 Dr. Spiegel just returned from a trip to Japan and brought back some interesting photos to share with you from an International Breast Cancer Awareness initiative held at The Peninsula Hotel in Tokyo. Proceeds from the Art of Pink activities as well as spa treatments, afternoon pink teas, desserts and drinks benefit Keep a Breast Japan and the Japanese Association of Breast Cancer Screening Society.
The Peninsula Hotel worldwide is featuring work by China artist Chen Man. This particular piece features Mount Fuji and has two large pink dots covering part of the picture. Visitors are encouraged to use nao nao bamboo sticks to scratch away the dots to reveal the complete image and further discussion about breast cancer.
We hope you enjoy the beautifully decorated corsets photos and find it as interesting as we do to see how Breast Cancer Awareness month is observed internationally.